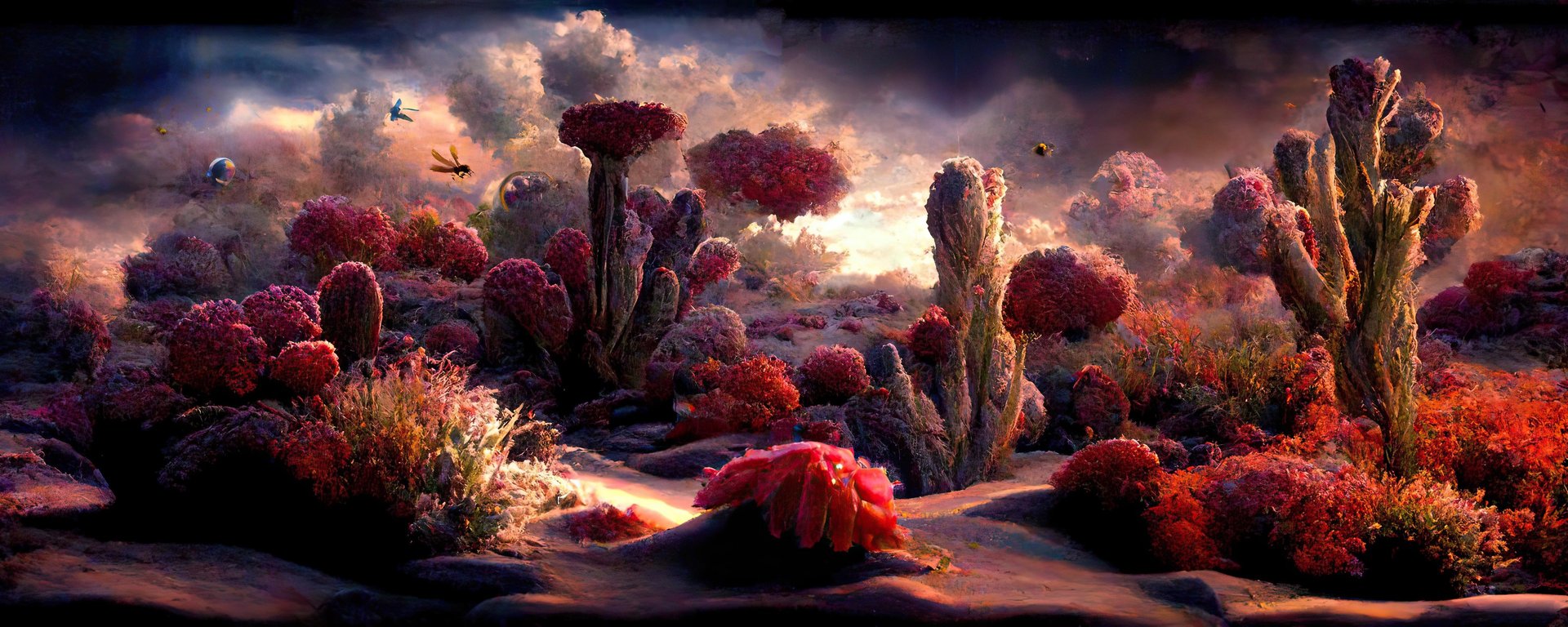 By showing how non-human entities perceive their environment, the "New Horizon Initiative" provides an A.I. rendered visual stakeholder analysis to "protect, restore and promote sustainable use of ecosystems and halt biodiversity loss" (SDG 15). Our thinking towards non-human life needs an urgent paradigmatic shift to "combat climate change and its impact" (SDG 13).
What would a landscape look like if non-human life such as plants, animals, insects were in charge? How does a bee see the landscape? What is the perspective of a tree? How does a snake see the world? How can these perspectives, the interests of non-human life, help to make executives aware that they are responsible for all life forms in their organizational decision-making? Decision-making in which the interests of non-human life should have the same value as the interests of humans.
The "New Horizon Initiative" analyzes and visualizes the different interests of non-human life in a landscape to advocate for inclusive decision-making.
The outcome consists of two landscapes: a salt desert landscape and a lowland desert which envisions how Sharm-El-Sheikh can look like, taking into account the interests of non-human life within landscape design.
Through this method we envision alternative perspectives for policymakers, CEOs and politicians at the UN Climate Change Summit (COP27) in Sharm-El-Sheikh to include the interests of non-human life in designing policy. With New Horizon Initiative we aim for the recognition and advocacy for the Rights of Nature as part of a legal framework.
Based on scholarly research, among others from Mohamed Zakaria Hateb of Wageningen University, we created a visual inventory of different types of vegetation and landscape elements that are important for the flora and fauna, site-specific for the Sinai desert around Sharm-El-Sheikh. We looked at the needs of common species, species that have disappeared and species that are on the Red List of the IUCN.
We used all of these images to do a visual stakeholder analysis through Artificial Intelligence to forecast what the landscape could look like.
What would Sharm-El-Sheikh look like if the interests of non-human life were taken into accounts?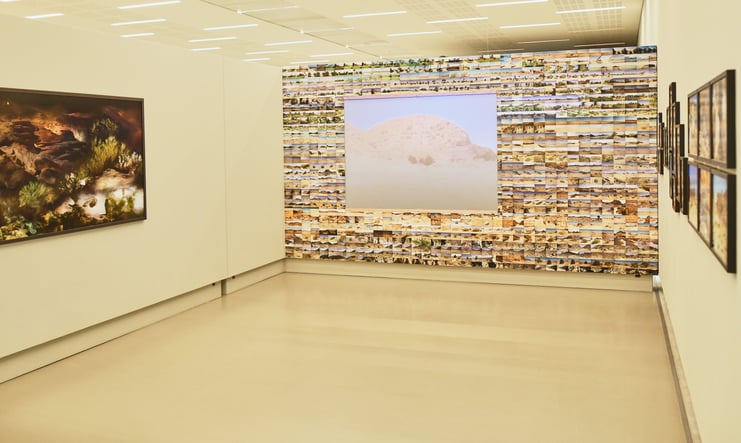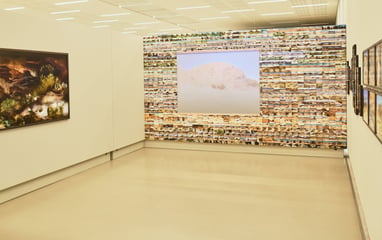 New Horizon Initiative "Sinai Experiment" is currently on display at Museum Belvedere in Heerenveen, as part of the "Regenerate" international photo festival hosted by the Noorderlicht.
Gus Drake (Seattle 1995) is an Amsterdam-based artist and documentary photographer who graduated in 2022 from the Royal Art Academy in the Hague. In his artistic practice he focuses on the interrelationship of people and non-human life and their environment. Using photography as a tool to connect and enter into dialogue. His work engages in cultural and ecological discourse addressing the heritages of the landscape and the decision-making consequences.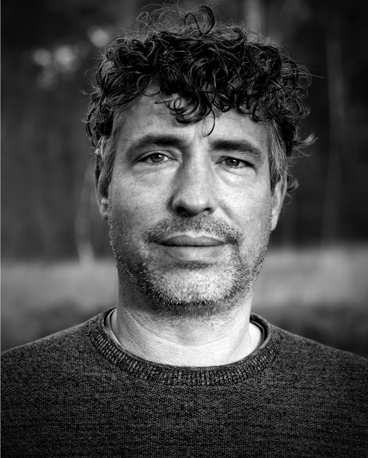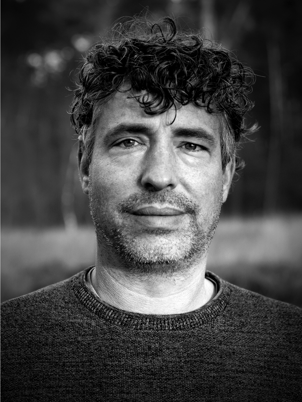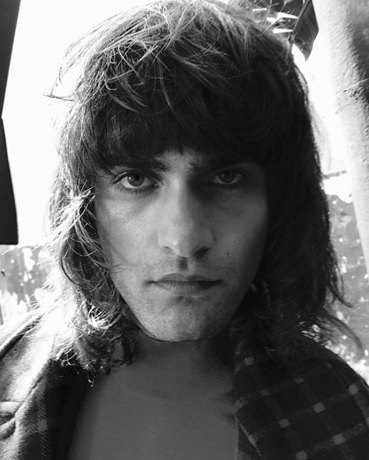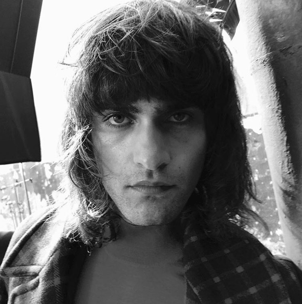 With a background in arts and journalism, Dirk-Jan Visser (Assen, 1978) is a documentary photographer, senior lecturer at the Royal Academy of Art in The Hague and is an active participant in the cultural and political arena, currently among others holding a position in the supervisory board of World Press Photo Foundation. In his practice, he uses photography, stakeholder management and public affairs to share perspectives and insights and to facilitate dialogue. His work aims to contribute to solutions around societal and ecological challenges.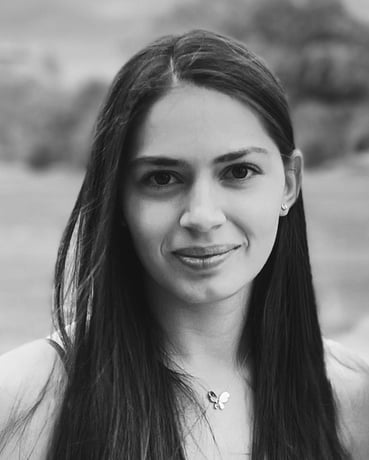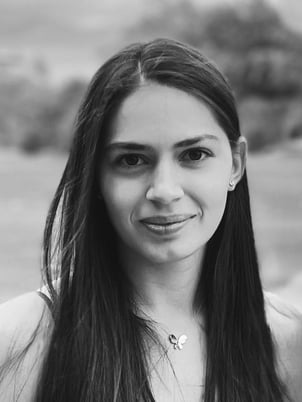 "Marianna Ohanyan (Armenia, 1998), a computer vision specialist with a passion for science and art. Marianna obtained an undergraduate degree in computer science and pursued graduate studies in applied statistics and data science. After graduation, she founded her first startup in the field of Artificial Intelligence, startup is focused on generating creative social media content for starting and developing businesses. Marianna is always exploring new concepts that push the boundaries of what is possible with AI, especially in art."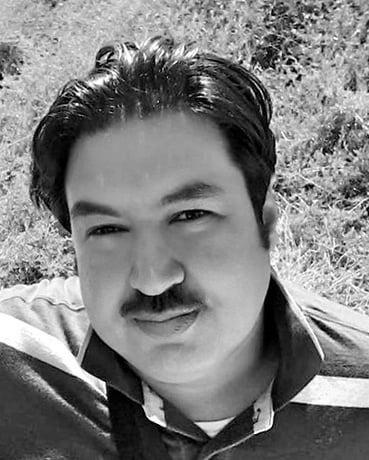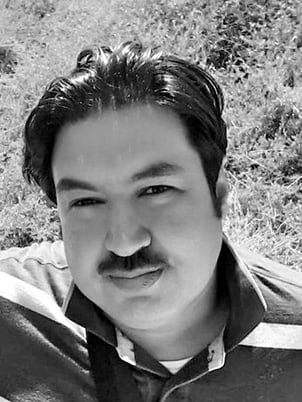 Mohamed Zakaria is a PhD candidate at Wageningen University and Research, specializing in the study of desert vegetation communities, with a particular focus on Sinai. His research encompasses various aspects such as plant diversity, conducting vegetation surveys, analyzing vegetation data, utilizing ecoinformatics, and exploring plant ecology. His primary goal is to gain insights into the distribution of desert vegetation communities, classify them, and predict their future distribution based on environmental factors. He has extensive experience studying Sinai desert vegetation since 2004 and has actively participated in international projects related to nature conservation and global vegetation.